HST Pleiad CL4eCameraLink Digital Frame Grabber
It is an frame grabber board that connects four camera link
cameras and achives stable image capturing at high speed.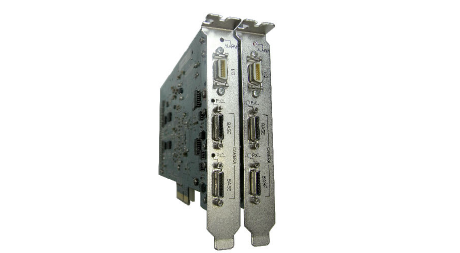 HST Pleiad CL4e Features
Independent Four Channels Input
It manages simultaneous acquisitions from up to four base configuration CameraLink cameras.
PCI Express(x4)Bus Interface
PCI Express(x4) provides high-speed transfer for high-resolution images.
Fast Image Transfer and Memory Access
Provides direct memory access(DMA),pipelined processing and on-board image buffering. They maximize acquisition speed and efficiency with pipelined processing, which allows high-speed image transfer for vision application.
Supports area and line scan cameras, color and monochrome cameras.
PoCL(Power Over CameraLink)
Supported Pixel Clock up to 85MHz
Supported Camera Manufacturer
OMRON SENTECH, Sony, CIS, Toshiba teli,Primetech engineering, Hitachi Kokusai
Software Development Environments
Support Darwin Vision Library
HST Pleiad CL4e
Feature

Independent four channels image acquisition
Supports high-speed image capture for area and line scan cameras, color and monochrome cameras for camera link (Base) interface

Hardware
Spec.

Two boards configulation. (Main and sub board)
x4 Standard height
Half length card (111.15mm × 167.65mm)
SDR mini connector ×4

FIFO
Memory
Video
Input

Supports four Base Configuration
CameraLink camera up to 85MHz per input.

PC
Memory
Access

Independent four DMA channel.
Provides direct memory access(DMA),
pipelined processing and on-board image buffering.

Parallel I/O

GPIO×16
Trigger line x4, Storobe line x4
24 bit position counter, encorder input