Industry ApplicationsSemiconductor (Back end)
BGA ball Inspection
This application provides high speed and high accuracy visual inspection of BGA device that implements the solder ball. It checks ball existence, position, pitch, size, extra balls, the ball-shaped.
And also it provides stable detection under the noisy background pattern on wafers or substrates.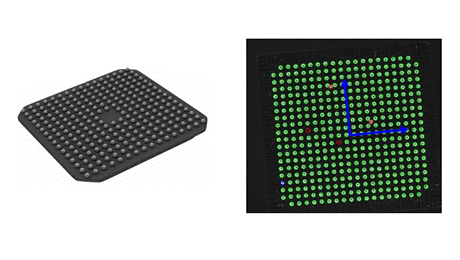 Discrete Device Inspection
This application provides high-speed, high accuracy lead inspection, package inspection and mark inspection of QFP,SOP and discrete devices.
Registration process is mostly automated so that users can easily set up the visual inspection of complex shaped devices. It supports the inspection of various shape devices by automatic registration of lead model.